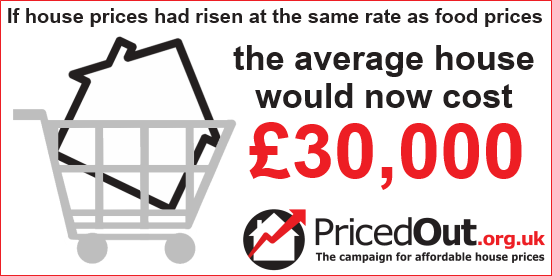 It's no secret that PricedOut think that house prices have become far too expensive. A roof over your head is an absolute basic that everyone needs to be able to afford. Therefore it's interesting to compare house prices to the cost of another life essential - food.
In 1970, a family of four spent £10.70 per week on food, compared to £52 per week nowadays. That means food now costs five times more than it did 40 years ago.
Back in 1970, the average house price was £6,000. Applying that same five-fold increase we saw with food prices would make today's average home cost £30,000.
Of course house prices are nowhere near that now. This week's official statistics showed that the average house price has now hit the £250,000 mark.
There is a cost of living crisis in the UK, and the housing market is to blame.
Many thanks to our friends at Shelter for the inspiration for this research, which follows on from their superb Price Check campaign: http://www.shelter.org.uk/pricecheck
Do you like this post?
---