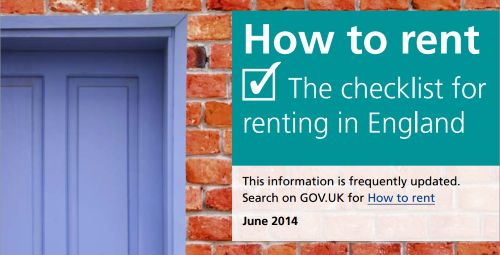 Most of the priced out generation are stuck in the poorly regulated private rental market. There will soon be 10 million of us dependent on private landlords for our home. So today the government has decided to publish a guide on "How To Rent" in England. In a hypothetical world where homes were abundant and the rental market was functioning properly, maybe his guide would be enough. But the reality is that the rental market across much of the nation is broken by a chronic shortage of homes and short-termism that leads to tenants looking for shelter out of desperation rather than out of carefully-planned choice.
Let's go through this guide and see how it fails to deal with reality:
First, the guide's introduction warns tenants that: 
When you rent a home, people sometimes expect you to make a quick decision, or to sign documents before you've had time to think about them.
This is because everybody needs a home and tenants don't have the choice to hang around if they are weeks away from having no roof over their head. This is especially the case in areas where housing is in short supply.
The guide then provides a checklist of things you need before you start:
What can you afford? Think about how much rent you can afford to pay: 35% of your take-home pay is the most that many people can afford, but this depends on what your other outgoings are (for example, whether you have children).
The reality for ordinary working people is that this makes most rented houses out of their reach. Shelter's research into the private rental market has found that
55% of local authorities in England have a median private rent for a two bedroom home which costs more than 35% of median take home pay in that area.
What's more, this "before you start" section doesn't even mention that you'll need to have access to thousands of pounds in order to pay a deposit, the first month's rent and often the rip-off letting agent fees (which should be banned). This huge omission suggests the government simply hasn't got to grips with the pressures that tenants face.
The next section on "questions to ask" deals with how long tenancies will last:
There is usually a fixed period of 6 or 12 months. If you want more security, you can ask for a longer fixed period (for example, 3 years). Many landlords are happy to offer longer tenancies.
Our advice would be not to get your hopes up. If the landlord has a buy-to-let mortgage, they will normally be banned from offering longer contracts. If the property is managed by a letting agent, they have a vested interest in not providing a longer contract as renewals gives them an opportunity to charge another load of rip-off fees. And the growing ranks of 'accidental landlords' will normally not want to offer long term contracts as a change in their circumstances may well mean they need the tenants to get out. That's why we are calling for the government to bring in 5 year standard tenancies, so that tenants will get a stable home by default.
The rest of this section recommends things like checking the fixtures and fittings, checking the landlords credentials and asking about the landlord's mortgage arrangements. Again, in an ideal world this is great advice. But in the real world where rented homes are in short supply and there are plenty of other desperate tenants also looking to secure a home, such rigour often proves to be impractical.
There is good advice in the guide. Tenants should always ensure that smoke alarms are working, inform the landlord about repairs that need doing, and not put up with a landlord who turns up at the house without any notice.
However tenants need more than advice. We need a government who recognise how the rental market is failing them and act to stop renting from being a third-rate tenure. And we need a government that will truly get to grips with the chronic shortage of homes that is makes the cost of housing the biggest financial burden of a generation.
Do you like this post?
---